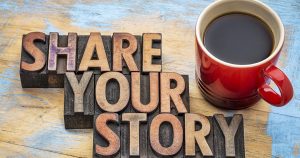 Brand storytelling is a ubiquitous strategy that has been used to market products and services since the dawn of business. But with digital forms of communication ever-so-popular, and customers having instant and unabating access to information at all times, it has become more important than ever.
What is brand storytelling?
Brand storytelling is the practice of using narrative to connect with and entice your customers. When your brand has a relatable story, whether it be about its inauguration, its mission, or goals, it opens an entry point for customers who can also identify with that story. Maybe they have similar goals or values that align with the narrative that you have created for your brand—and that's a great thing! It gets people interested and builds their trust.
What are the benefits of storytelling for marketing?
Storytelling has a universal charm and humans have been creating and sharing stories for millennia. Not only do they entice and attract people, but they also build trust; and building a healthy, trustworthy relationship between your business and your customers is critical.
We live in a time where consumers are becoming increasingly aware of and aggravated by traditional, invasive advertising techniques. According to a 2014 McCarthy study, when asked "Are you a kind of person who likes advertising?" a whopping 84% of millennials said no.
If you can entice customers with a story and save them the frustration of those bothersome, pushy tactics, that's a win!
How to build a brand story
There are many keys to building a great brand story, but here are some of the most important:
Keep it simple
It's incredibly easy to overcomplicate a story. You don't want your audience or potential future customers to lose interest before they have a chance to learn what you're all about. Create a compelling hook for your brand and keep it simple!
Create a personality
Giving your brand a personality can help like-minded customers connect with it—which makes it much more likely for them to return.
Examine your brand closely
What is your brand all about? Taking the time to really understand what message you want to send, and how to effectively send it to your desired audience will help tremendously throughout the story-building process.
Make it so others can't help but share your story
One of the many marks of a successful brand story is how compelling it is. Effective brand storytelling will leave your customers wanting to share it with their friends and family, thus creating brand new customers.