Content is King—this we've established. But it also means that Content Marketing—the development and distribution of content as a marketing strategy—is also royalty. And while the premise sounds simple, there's a lot that goes into a successful content marketing strategy; some obvious, some not so much. But fear not, because we're here to give you three content marketing tips that can help ensure success.
1. External linking
External linking has become a pretty standard practice amongst content marketers, and for good reason.
External linking offers added value to your businesses content by:
Improving your SEO
By linking to external content and sources, your pages appear more useful and resourceful to search engines. And because most major search engines have strictly coded algorithms, your pages automatically appear more attractive to that process, meaning they're more likely to return your content as a result of a search.
Creating connections
Backlinks don't go unnoticed by the entity you're linking to, and it's often a flattering compliment. The more you backlink, the more likely you are to get backlinked yourself by other businesses, which is great for bringing in new eyes.
Improving your credibility
External linking is a lot like citing your sources. When you backlink to credible, relevant sources, you appear more trustworthy to users—it's that simple!
This Hubspot post talks more about these reasons, and a few others, in a blog detailing the benefits of external linking—check it out!
2. Content calendar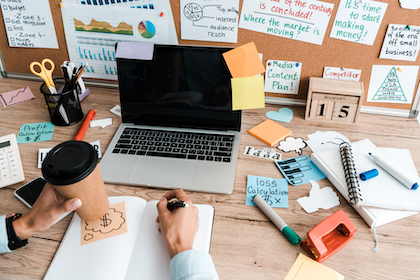 The benefits of keeping a content calendar are innumerable, but it's not always easy. However, the challenge is no reason to not give it your best shot! Organizing content in a calendar helps you keep track of virtually everything: what goes out when, what's been done, what needs to be done, deadlines, etc.
It can take a huge weight off of your shoulders and allow you to focus more on the actual content you're producing, which, in turn, can help improve the quality of that content.
3. Repurposing content
This is something we detailed in-depth in another blog post, but it's worth reiterating here. Creating a short video or podcast from a previous blog post, or curating social media content via an eBook are great ways to repurpose content.
In short, repurposing content can help you:
Save time,
Improve your reach;
And boost your SEO
…which are all great things!
Here lay just three tips to help you improve your content marketing strategy this year—but there are many more. Content marketing is the bread and butter of the industry as a whole in 2022, and there are so many ways to help you get locked into a path to success. That said, we encourage everyone to do some research and find out what things work best for them. And if you ever get stuck or confused, we're always here to help.