Your website is likely the first interaction your potential customers will have with your brand. It's also very probable that they will make a purchasing decision quickly based on their first impression of you. So what makes a website 'good', how does its design affect your customers' opinion about you, and how do you meet all their needs while still having a Google-friendly website?
What Makes a Good Website?
Not only is the appearance of your website important, but its performance is, too. This is likely obvious to most people, but it might not always be apparent why it's so important. We're here to clear things up!
Before we jump in, let's take a look at some pretty neat (or scary, depending on the state of your own website) statistics from the people over at HubSpot:
It only takes 0.2 seconds for visitors to make judgments about a website.
40% of Internet users will exit a website if it takes more than 3 seconds to load.
Almost 50% of web users say that if a company's site isn't working well on a mobile device, they see it as a sign that the company doesn't care enough about its web presence.
A shrinking patience and attention span coupled with a growing desire for smoother, more accessible information means that websites have to be tailored to meet those needs. But forget the statistics for a minute — let's make it even more simple. If you were looking to buy a new, I don't know, frying pan — would you be more likely to buy from the site that looks like it's from 1994, or the clean, crisp website that makes the purchasing process straightforward?
Improving the Look and Performance of Your Website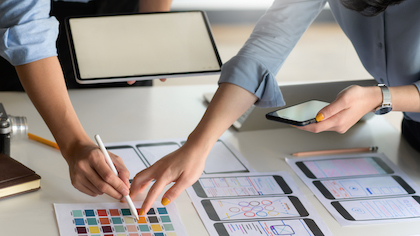 A great website all comes down to a refined User Experience (UX). It's something we talked about last year in a UX-focused blog post, which you can read here.
To create a good user experience, you need to know what your audience wants and cater the design towards that. How can you make that as stress-free as possible? Well, after you've gathered some insight, you should be building your website in a Content Management System (CMS) to make designing, editing, uploading content, and managing your build easier.
Effective UX also works wonders for a website's crawlability, making search engines like Google more likely to offer your site as a result of someone's search inquiry. There's a lot more at play when it comes to technical SEO and Google's algorithmic decision making. If you need more information on that, we've got you covered. Head over to our blog about Google's latest algorithm update.
People's design preferences have changed
Beyond all of the technical stuff that makes a website viable, we also have to consider people's changing design preferences. There's a reason that we've seen huge brands revamp their logos and simplify their image. People nowadays tend to prefer cleaner, crisper, more minimalist design aesthetics, so it's important that we're paying attention to those preferences when building a website.
Luckily, we've built everything from those 90's style maximalist websites when we first got started, to the clean, crisp, minimalist, and accessible websites that people want today. And beyond the initial design and build, you have to maintain, maintain, maintain. If you've been thinking that your website needs a refresh, it probably does. Browse our portfolio of diverse website builds and drop us a line with your ideas. After all, building websites is what we do.