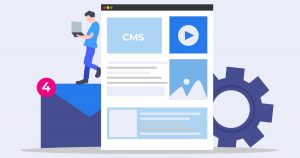 A Content Management System, or CMS, is one of the most important tools that small business owners have access to. A CMS is a piece of software that is used to manage, format, distribute, edit, and analyze digital content that you might be putting out for your audience. There are thousands upon thousands of CMS options available on the internet, but some of the most recognizable are WordPress, Shopify, and Wix—to name a few. The cool thing about CMS is that they are designed to help people set up and maintain websites or other online presences—like blogs or online stores—without having to hire an expert to do it for them. Many of these systems offer templates, guides, and other helpful features that allow even the most unseasoned internet users to get up and running online and without the need to write their own static HTML code and upload it to a server manually.
What are CMA's & CDA's?
To get to know a CMS, we first need to know what they're made up of. Often abbreviated as CMA and CDA respectively are content management applications and content delivery applications. CMA's allow users to add, edit and upload content to their website. This part of the process is often a dashboard-style interface with writing and editing tools as well as a myriad of other useful tools that allow for intense customization of the website. A CDA, on the other hand, is mostly invisible—behind the scenes. CDA's package and deliver what you've created in the CMA directly to your visitors, exactly as you have specified. In other words, it makes sure that visitors to your website are seeing things exactly as you designed and intended.
The advantage of CMS's
As mentioned previously, CMS's do not require a laundry list of technical knowledge to use them effectively—almost anybody can get a website up and running within a couple of hours. There's also no need to be familiar with programming languages like HTML or PHP. Most well-known CMS's also provide the user with additional resources, such as consultation or interactive tutorials if you find yourself needing some extra help.
Where Jester comes in
Although CMS's are designed to be as user-friendly as possible, they can still be a little tricky to get the hang of and take full advantage of their capabilities. At Jester, we've been working with the best content management systems available for many years. We've had the pleasure of launching plenty of successful websites for our clients and we would love for you to be the next! Whatever your idea, big or small, we're confident that we can create you a gorgeous, functional, and responsive website that suits all of your needs.