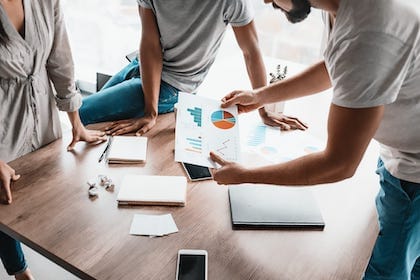 Metrics are an important part of any business, and there are thousands upon thousands of trackable metrics that a business can monitor. However, some are more important — or more valuable — than others. Here's a rundown on 6 marketing metrics that we believe are super valuable, and that you should be tracking in 2022:
1. Keyword rankings specific to your industry or business
Keyword rankings and metrics provide valuable insight into the keywords and phrases that your business is using effectively. Not only that, they also let you know which ones could use some improvement.
Once you have an idea of how things are going with your SEO strategy via keyword usage, you'll know exactly how to refine your practice.
2. Time spent on your website
More isn't always better, but in this case, it definitely is. Time on site metrics give you an incredible window into your audience and anyone else who happens upon your website. A lot of things can be derived from these metrics, like if your content is resonating with visitors — or if it isn't. Or even how many people are clicking on your site purposefully or by mistake based on how long they stick around.
3. Your engagement numbers
Engagement has always been important to marketers and small businesses. They quite literally tell us how many people are engaging with a piece of content — whether that be impressions, clicks, shares, saves, or something else. While the relationship between the quality of a piece of content and its immediate engagement metrics aren't mutually exclusive, they will generally give us a pretty good idea about how much people actually enjoy or relate to that content. And, of course, the more engagement, the better.
4. The source of your traffic
Knowing where your traffic is coming from is essential. Once you find out where the bulk of it is flowing in from, you can prioritize those channels and optimize your strategy. That doesn't mean you should disregard the channels that are lacking, though — just that you can focus on improving them and bring them up to speed with those that are successful.
5. Click-through rates on your products or content
Like most of these metrics, it's all about gaining knowledge about the activity and preferences of your audience in order to optimize, optimize, optimize. Well, it's the same thing here! A great measure of a product or piece of content's success can be realized in its click-through rate. How many people are clicking? Why are they clicking? Where are they clicking from on the internet? Metrics for click-through rates can help you answer these questions so that you can act accordingly. Are people more likely to click through if the link is on a particular page? If so, you know where to send them going forward!
6. The open rate of email marketing assets
Email marketing is still a huge part of most businesses marketing strategies. When marketing teams are putting so much time and effort into extravagant email assets, they want people to open them! But, in order to know if those assets are hitting home with your audience, you need to tune into those open rate metrics. Once you do that, you'll learn what is and isn't working and be able to optimize that email content to attract more eyes, get more clicks, and have more people interact with them.
Metrics are overwhelming. There are so many different things you could be measuring that it's not always clear which ones you should be focusing on. Fear not, because Jester has been assessing and monitoring businesses' for a long time. We'll even curate a customized training course specific to you and your business to help you get a leg up on all these metrics. Just ask us!