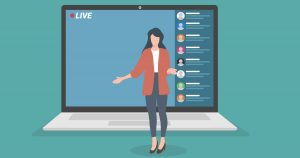 Perhaps surprisingly, a staggering 70% of marketers did not have a virtual event strategy in place before COVID-19 pushed everyone into their homes and locked the door behind them. Since then, virtual events have exploded in popularity and gained an almost instant ubiquity that now seems so "normal". The disconnect between 'the before times' and now seems bizarre — it's almost strange to think that we ever did things differently, even though it's only been a little over a year since everything started changing.
As things start to wind down, it's important to note that we are still in a pandemic and our guards should still be kept up at this point. While many businesses are starting the process of converting back to in-person events and meetings, it's hard to ignore the benefits that their virtual counterparts offer. Here are a few to note:
Increased attendance
Virtual events offer greatly increased accessibility to individuals. Unlike in-person events, congregating in a virtual environment helps bypass geographic and economic barriers and offers unlimited capacity. This means that more people are likely to attend these events, which can generate more leads and have an overall more positive impact on your business.
Reduced expense
Perhaps one the most attractive aspects of virtual events is that they are significantly less expensive to host. Combine that with the increased accessibility and what's not to like? More people, less cost? Sign us up!
Access to analytics
Technology is a powerful tool. When we host virtual events, it becomes exceptionally easier to track and trace analytics. Analytics open the door to a host of beneficial data and information like attendee contact information, habits, and more that can all be used to network and even market to after the event.
With such lucrative and attractive benefits, it's hard to imagine the complete death of virtual goings-on after things have settled down. According to a 2020 study, 72% of event planners said they would move forward with virtual events in 2021 and beyond. And with more than half of the year behind us at this point, that data seems to be holding true as virtual events remain the norm across much of the world. As things continue to change and evolve, the most realistic outlook would be one of a hybrid nature, where a mix of in-person and virtual events share the spotlight.