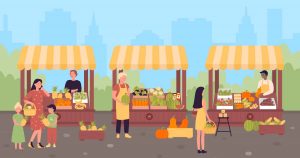 Seasonal marketing — the practice of advertising and marketing during specific times of the year. Think things like Christmas, Mother's Day, and even complete seasons, like autumn (ahem… pumpkin spice everything). This form of marketing is often overlooked, but for businesses in e-commerce and other direct-to-consumer brands, it could be a costly oversight.
Since the foundational idea behind seasonal marketing ties the strategy to a specific day or time of year, it has the exceptional power to evoke emotion and nostalgia in customers, which could have a major influence on their decision to purchase your products or services. Not only that, but having it tied to that specific day or time — usually one where it's the norm to spend a little money — gives them an excuse to spend it!
Seasonal events like Halloween and Black Friday (especially Black Friday) drive massive amounts of traffic to websites. And I think it's safe to say that the most popular websites during these special times of the year have the most robust and thoughtful marketing strategy behind them. Here is a list of some tools and practices that businesses might use as part of their seasonal marketing strategy that you may have seen before:
Countdown clocks
These are majorly popular in the e-commerce industry, especially around holidays like Christmas and Black Friday. They usually accompany a special sale or discount and, depending on how they're being used, either provide a sense of urgency or anticipation.
Timed releases
Oftentimes, brands will time a release of a product to coincide with a special time of the year — think of the myriad of seasonal Starbucks drinks. Another example that comes to mind for me, is when Nintendo released Luigi's Mansion 3 on Halloween Day back in 2019. The game is about a haunted mansion — and while it's not explicitly Halloween themed, Nintendo understood that releasing a spooky game on Halloween would drive sales.
Interactive advertisements
You may have seen some brands have something like an interactive advent calendar around Christmas time that offered discounts on their products. This is a great way to get people excited and gives them an excuse to shop with you!
Using these tools to your advantage can give your business's seasonal marketing strategy that much needed boost and really make you stand out against your competition. That's another thing about this practice — there's a lot of competition. Make your seasonal marketing intriguing, engaging, and fun and you should have no problem pulling those customers at any time of the year!