At Jester, we're about more than just creating things for you—we also want to show you how to create things on your own and inspire you to take your project to the next level. That's why we offer a variety of specialized training courses from social media to Shopify and a few things in between.
Intro to Social Media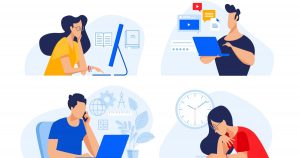 With the almost unavoidable reality of the internet and social media that we are all a part of these days, it's important to know how different channels work and how you should be communicating on them to maximize your engagement and interaction with your audience. Whether you're just looking to brush up your skills, or to simply learn more about the ins and outs of platforms like Twitter, Instagram, Facebook, YouTube (and more), look no further than our Intro to Social Media Course.
In addition to this introductory course, we also offer additional social media courses. Social Media Measurement, where we'll teach you how to use analytical tools and show you how those numbers relate to your Return on Investment (ROI); and Social Media for Small Businesses, where you will learn the importance and value of social media marketing for your business and how to develop a personalized social media strategy based on your business objectives. We'll also provide some insight on helpful tools that can help you manage your social media presence effectively and efficiently.
Creating Compelling Online Content
Developing comprehensive content marketing strategies is paramount to online success. Video production, podcasting, e-books, webinars, blogging, photo-sharing, and much more—these are just some of the examples of the many forms that online content can take. In this course, we will show you how to develop and employ a strategic approach to content creation so that you can communicate with the right audience.
In addition, we also offer a Writing for the Web course. In this course, you will learn how to write compelling and concise content for the web that meets all of your business goals and is masterfully optimized for search engines (SEO).
Creating and Maintaining a WordPress Site
Are you a WordPress beginner? We have your back! WordPress is one of the largest content management systems (CMS) available today—and it's free to use. This introductory course will teach you the ins and outs of WordPress; how to create a website and blog; create and edit posts; customize with widgets and plug-ins; use themes; and general best practices for maintaining your site.
Working with Shopify
And finally, Jester offers a comprehensive Shopify course. Shopify is another content management system, but instead of written digital content or video content, its primary focus is sellable products and e-commerce. In this course, we will show you how to wow your customers with your digital storefront; navigate the Shopify admin dashboard; use plug-ins: install and configure storefront themes; install and configure apps; add and manage products, posts, and pages; add and manage sales channels; and configure dashboard options.