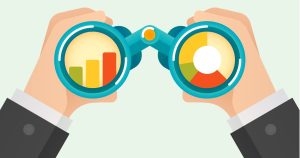 A new year is right around the corner, and what better way to welcome 2022 in the marketing world than by exploring and predicting some trends that are likely to really take off throughout the year. Here's a list of 4 trends that already have, and will continue to, gain traction:
Hybrid events
We discussed this in a previous blog post that we did at the end of August this year called Virtual events: are they here to stay? In that, we briefly discuss some of the benefits of hosting virtual events compared to traditional, in-person events. So far, the trend is still shifting in this direction and it's likely that yes — virtual events are here to stay. We may see a slight trend back towards traditional events, but a hybrid model that combines the use of both virtual and traditional is definitely something that will stick around in 2022 and likely even go far beyond it.
AR/VR/AI
We decided to group augmented reality (AR), virtual reality (VR) and artificial intelligence (AI) into one tech super-category so that each one didn't take up a separate spot on this list. Collectively, these technologies open the door for so many new possibilities. The continuous development of AI will help us complete traditionally tenuous tasks for our marketing campaigns like lead generation and data analysis to an even greater extent than they already do.
On the other hand, AR and VR open the door for endless creative possibilities that businesses can use however (ethically) they see fit to advertise their products and services in new and exciting ways. We think these technologies will really gain some traction in 2022 and we're excited to see how people use them.
Digital domination
You may be thinking, 'isn't digital already the norm?' and while the answer to that is 'yes', it will likely become even more so — which is why we elected for the word 'domination' in this subheading. With so many people adopting and upgrading their technology due to the pandemic, more people than ever before are involved in digital technology. Because of this, expectations will naturally rise and people will expect their digital experiences to deliver as intended.
Accessibility/CX
Going hand-in-hand with number three, accessibility and customer experience is the natural next step in a digitally dominated market. Accessible digital experiences contribute greatly to brand growth and it's something that consumers have come to expect.
2022 will bring many new things with it and leave many old things behind. These are just a few of the trends that we think will really kick-off next year — so keep your eye on them!