Business-to-business (B2B) social media has been around for more than a decade. However, the global pandemic encouraged more businesses than ever to reach for more impactful online opportunities.
According to Forbes, businesses have relied more on digital and social media marketing in the past couple of years because of COVID-19. They say, "many brands are being more creative and using social media differently." 2022 B2B social media trends certainly reflect this increased creativity.
Additionally, quickness and efficiency are the common denominators in 2022 B2B social media trends. They all speak to audiences' time and attention limitations. Furthermore, this approach is achieved with a smaller budget, so the reward is twofold.
Let's put some 2022 trends in the spotlight!
Showcasing Video Content
Social media stories are trending. More B2B brands lead with short-form videos and post frequent Facebook and Instagram stories. Short, innovative videos are becoming the norm in reaching audiences. Read more in our previous post, "Short Form Video's Surging Popularity."
Make the most of this trend by showing your audience the solution and result rather than the product or service. By focusing on how their lives could be improved with your brand, your video reaches a deeper level than a sales pitch. It touches them on a personal level.
Also, create videos of behind the scenes or the insider view of your operations. Give your B2B customers the VIP experience and humanize your brand.
Creating Polls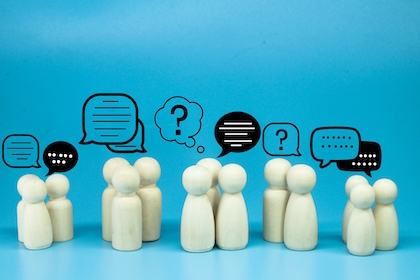 Almost every platform supports hosting polls. They can effectively spark engagement with and help gain insights into your audience. Additionally, they increase participation with your brand and can be a tool to share the heart of your business.
The best approach is to post a blend of entertaining and informative polls. Lighthearted, fun polls get people's attention and are enjoyable for the audience. In comparison, investigative polls are excellent at gaining valuable insights into your audience's preferences and mindset.
Overall, polls are engaging and take only a moment of your audience's time which is a critical aspect of 2022 B2B social media trends.
Staying Mobile-Friendly
Ensure your website is responsive on mobile devices and loads efficiently. Mobile-friendly sites give your audience the best experience and keep them from abandoning your brand. Also, they improve SEO. Google will penalize non-responsive sites. Think about it this way: smartphones are now the norm, so adapting to mobile-friendly is a smart move. 
Approximately "70% of B2B decision-makers rely on remote or digital interactions to prospect for B2B products and services," according to IndustrialMarketer.com. This means taking steps to improve the mobile responsiveness of images and navigation on your website will be beneficial.
Personalizing Platforms
Keep your audience engaged where they are without redirecting them and improve your algorithm results. Think of each network as its own community and plan to increase visibility and participation in a style that suits the best practices of that platform. Your B2B social media is interrelated across platforms. However, they should stand alone as well.
Personalizing your business is also crucial. Make sure your audience feels the human element of your organization. Adding this practice to your B2B social media strategy can do a lot to improve relationships with your audience.
Lastly, trends will change, and social media will continue to reinvent itself. Nonetheless, you can leverage your B2B brand by following relevant trends. Better yet, if you have an innovative idea, you could become the next trend setter.