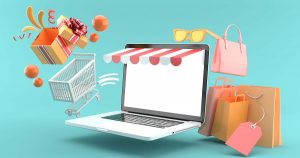 There are a myriad of benefits that come along with running an online business or store, some of which we highlighted in a previous post. But one of the most beneficial aspects of e-commerce is customer accessibility. E-commerce truly is a win-win when it comes to the shared perks between the consumer and you. Shoppers are afforded the convenience to browse and buy at their leisure and during any hour of the day or night, as well as on weekends—something that a brick and mortar store generally would not offer. And you, the business owner, can rest easy knowing that you're making money while you sleep. For the most part, you achieve this by selling products or services. However, there is quite a bit of variety depending on what you offer and how you deliver the product or service to your customer. Further, as a business scales, taking advantage of automated procedures will help you keep up with demand. Let's take a look at some different strategies and types of automation and discuss why they're great for making that midnight moolah.
Examples of e-commerce automation:
Scheduled sales: automatically apply sale prices to select items for scheduled times.
Discounts: automatically adjust prices based on special offers or combined items.
Order confirmations: automatically send order confirmations to customers via email.
Inventory tracking: your website will automatically track inventory numbers, mark products as 'sold-out' or 'low-stock', and reupload sold-out products when new stock becomes available.
For more information and examples, check out this awesome article by Shopify. Our resident Shopify guru, Tony, has also written a blog that offers some insight into the platform. Team Jester can help you get started with your very own online shop, and we can also build you a comprehensive communications plan to ensure that your brand new online presence gets noticed.
What do you sell or provide to your customers?
Perhaps the most obvious, selling products online is one of the best ways to make money 24/7. Of course, products are any tangible object that is shipped directly to your customer; clothes, crafts, kits, lotions, haircare, technology, the list is endless. But, there are a couple of options here that you can use to actually get the product to your customers' door. More traditionally, you would have stock of your product on hand and ship it out yourself. However, a more recent tactic that business owners are employing is dropshipping. With dropshipping, there is no need for you to be in possession of stock. It works like this:
A customer places an order on your website
The order is automatically sent from your website to your dropshipping supplier
The supplier handles the order and ships it to your customer
More information on dropshipping from Shopify here.
In addition to products, though, you might consider things like downloadable content, pre-recorded online classes, or booking forms if you offer a service. All of these are great ways to ensure that you get paid at any hour of the day.
If you've thought about starting up an online store, for whatever reason, we would love to be a part of it. We've launched dozens of websites for our clients, many of which are e-commerce and virtual storefronts. Contact us to discuss your needs, we would love to hear from you.